Onferno is a small and charming village perched on the hills of the Valconca, bordering the Montefeltro. The tradition tells that Dante has set the Circles of his 'Hell' drawing inspiration from the cavities present in this village and from this derives the name of the locality, subsequently modified in 1810 by the Bishop of Rimini Gualfardo.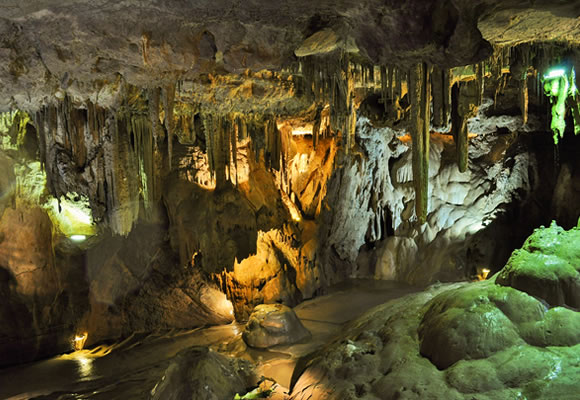 Onferno today is an Oriented Natural Reserve, rich in rare species of vegetation. Inside the suggestive cave the visitor will be able to enter into the dwelling of a colony of bats, the most important of the whole region, which has a population of about 6,000 specimens of these small nocturnal animals belonging to at least 6 different species.
Upon arrival you will descend for 1.350 meters, up to admire the outcrop of crystalline gypsums and the myriad of bats. The guided visit, with torch and helmet, will last approximately 90 minutes and will give visitors the thrill of an adventurous speleological exploration accessible to adults and children, a real underground adventure!
Inside the Reserve, in addition to the Caves, you can find the Museum, the Botanical Garden and, in the village called Castle of Hell, a splendid panoramic terrace with the typical cuisine of Romagna, with notes of the Marche region.
The Caves are located 30 km from Rimini: to get there take the SS 16 in the direction of Riccione until you reach the junction for Morciano. From Morciano then continue along the course of the Conca for Santa Maria del Piano and later turn left for Onferno. Another route, longer and more tortuous but also more panoramic, is the one turning left for Gemmano.
For more information on opening times, prices, events, the official site of the Oriented Natural Reserve of Onferno is www.grotteonferno.it