Misano Adriatico, ideally located in the heart of the Riviera Romagnola, is one of the more popular beach resorts of the Emilia Romagna. Beyond its evocative historical centre, rich in testimonies of Roman origin and wonderful churches embellished with works of local artists, the lovely tourist harbour and the beautiful waterfront confer to Misano a large part of the charm that made it famous for decades.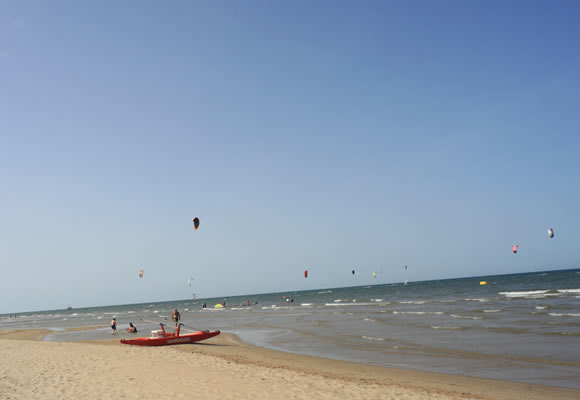 The tourist harbour of Porto Verde is the true pearl of Misano, a magical place where walk, shop or simply enjoy the enchanting atmosphere that you can breathe anywhere between an alley and the other of the beautiful dock with small yacht, sailing boats and rafts. Also the wonderful beaches of the waterfront confer to Misano the typical appearance of a florid seaside town; among these the more popular are Calypso Beach, equipped with specific attractions for couples, young people or families, and the historical Bagni Rodolfo Zona 37, fully equipped and marked by the jovial hospitality of the owners.
The true jewel of Misano is the former circuit of Santa Monica; today renamed Misano World Circuit Marco Simoncelli. Reference point for lovers of motor sports and speed, catalyses the attention of tens of thousands of fans on the occasion of the historic stage of the Grand Prix of San Marino and of the Riviera Rimini that takes place here every year in September.