The municipality of Bellaria and Igea Marina on the Adriatic Coast is a renowned and welcoming seaside resort with two centres with different identity but with a single objective: to offer holidays of relaxation and fun for everyone for families with children and groups of friends.
Its safe and clean beaches are the preferred destination of those travelling with children, the pedestrian zone in the centre, known with the name of Isola dei Platani is the daily meeting point of all the people in holiday with clubs, restaurants, ice-cream parlours and the many shops for relaxing walks between shopping and leisure.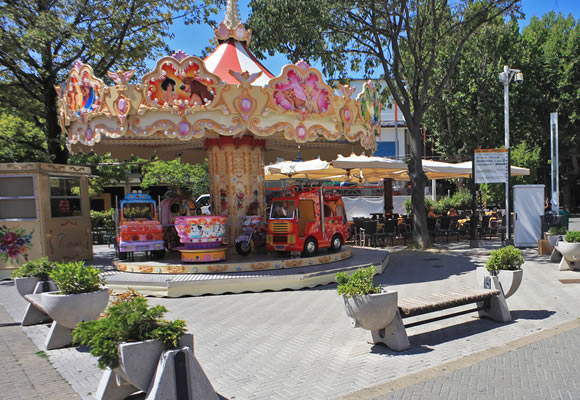 The Park of the Gelso and the Park Pavese, are the green lung at two steps from the sea. They are much loved by those who are looking for a bit of fresh air in the flourishing green, perfect for a run, a bike ride and for the daily training of sportsman. Families with children can spend a few hours of fun in the areas equipped with toys.
Bellaria and Igea Marina propose throughout the season feasts, musical events and festivals linked to the traditions of the territory. The squares come alive with music and markets, the clubs propose aperitifs by the beach and parties under the stars for a program of events able to satisfy all tastes.
For lovers of culture the major points of interest are certainly the Red House summer residence of the writer Alfredo Panzini where you can admire unique decorations and frescoes, and the Saracen Tower that tells the ancient history of this land. The programs of the Astra Theatre and of the annual Bellaria Film Festival are a not-to-be-missed appointment for lovers of theatre and cinema with occasional encounters with authors and cultural figures.
The destination preferred by young people is represented by Becky Bay, beautiful club on the beach with a large stage for live music concerts of internationally famous bands.