Marebello is the ideal destination for those who want a holiday with the more genuine hospitality. Situated between Bellariva and Rivazzurra is located near the centre of Rimini but also not far away from Riccione, reachable in a few minutes. The reception at Marebello is very familiar and the hotels of the area offer quality services, but above all a great attention to the needs of tourists who here feels like at home.
Every summer the tourist committee of Marebello organizes many activities to enjoy fun days and, especially, evenings in company. On the beach it is not unusual to participate in picturesque grilled fish, called rustide, accompanied by the famous piadina and by Sangiovese wine, but also to assist to tournaments of bowls, beach tennis, beach volley, parties with music and group dance. And, at the end of the feast days, nothing better than to attend a firework display.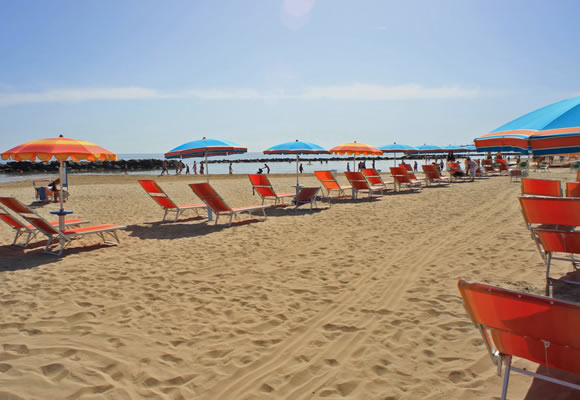 In Marebello tourists can find restaurants, pizzerias, ice-cream parlours and clubs where they can enjoy a cocktail, taste an excellent seafood dinner, a hamburger or a Neapolitan pizza. For the youth there are games rooms and pubs where they can meet enjoying a tournament of darts and a cold beer. For those who love the Caribbean atmosphere there are also clubs on the beach offering good music and delicious exotic cocktails.
Marebello teems with shops, kiosks and bazaars where one can buy every kind of souvenirs, but also clothes, shoes, accessories for the beach, postcards and everything one need during a holiday. There are many food shops and small shops open until late with snacks and drinks to refresh the warm summer evenings.