San Marino is the oldest independent republic of the world, an evocative fairy world perched on the top of the Mount Titano dominating the entire valley below in a crescendo of breath taking glimpses and unrivalled panoramic views. The symbols of the city are the so-called three "Penne": Guaita, Cesta and Montale, magnificent medieval towers excellently preserved from which you can enjoy the best view of the lively Riviera Romagnola extending just few kilometres away.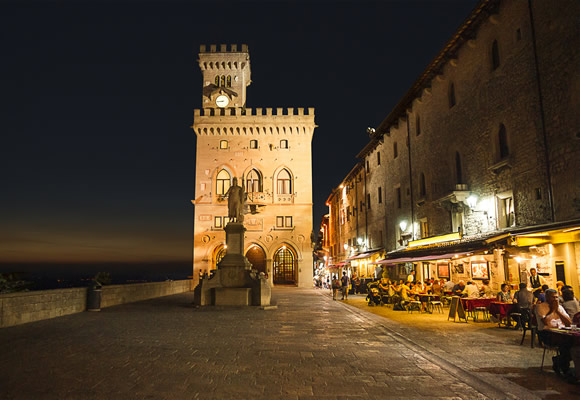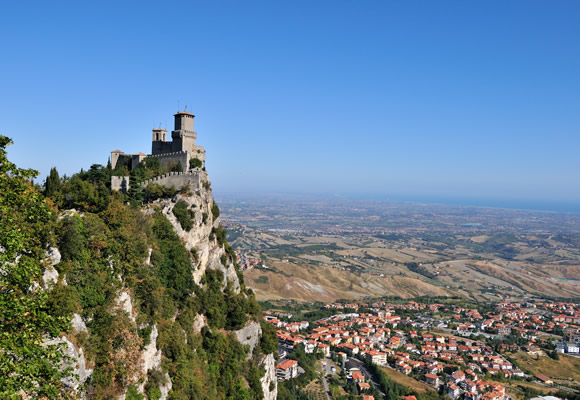 San Marino is a true paradise for lovers of art and culture, that here can find churches, palaces and museums for all tastes. Among the museums the ones that stand out are the State Museum, temple of archaeology, the Museum of San Francesco, with very interesting collections of sacred art and paintings by artists of the calibre of Guercino and Raffaello, and the controversial Museum of the Torture, a touching journey to the discovery of the main techniques used in old times. Concerning the religious architecture, the Basilica of San Marino is the main building: built between 1826 and 1838, presents an interesting temple façade and inside hosts in the Sacred Reliquary, the relics of Saint Marino. The religious profile of the Republic is completed by the small church of Saint Peter, the Church of Saint Francis and the monastery of Saint Clare. Also not to be missed are the civic architectures that dot the historic centre. The central Piazza della Libertà, for example, is delimited by the beautiful Palazzo Pubblico, with the attached battlemented bell-tower as the rest of the castle, and completed by the bronze statue of the Saint.
Beyond each artistic and cultural tour, no visit to San Marino can be complete without a stop in the picturesque shops of the historic centre, shops with local traditional productions such as hand-painted ceramics, objects in wrought iron and wood, elegant laces and embroideries, coins and stamps.