Marina Centro is the heart of the summer movida of Rimini, the place where you will find the most exclusive clubs and hotels and perfect for those who comes on holiday in search of an atmosphere that is a bit VIP and a bit nostalgic. Avant-garde seaside resort since the middle nineteen century and worldly lounge between the end of the nineteenth century and the beginning of the twentieth century, Marina Centro has been celebrated by Fellini in his Amarcord. Many stills of the film were shot in the legendary Grand Hotel, one of the symbols of the city, today exclusive 5 star hotel, a venue for events of international level.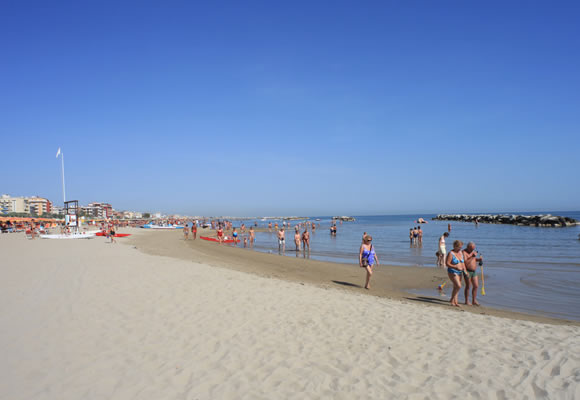 Connected to the historical centre by the prestigious Viale Principe Amedeo, which ends with the famous Fountain of the 4 Horses, Marina Centro develops toward the north in the direction of the harbour and of the new dock and toward south along the more exclusive boulevards of the waterfront. Those are dotted with trendy clubs, pubs and restaurants where you can spend pleasant evenings between a cocktail, a seafood dinner and an after-dinner to dedicate to shopping in the exclusive boutiques of the area.
Toward the harbour you find the coolest discos of the area with a walk that ends in Piazzale Boscovich. Here every year is installed a scenographic Ferris wheel from which you can admire the whole coast. An unmissable spectacle especially at sunset.
In Marina Centro take place events of all kinds, especially during the summer season. Among the most trendy and loved venues by the people of Rimini there is the Molo Street Parade, along the canal, with dj-set made directly on top of fisherman boats and the possibility to taste the fish of the Adriatic Sea at the rhythm of the music. Always dedicated to food and to the gastronomic excellence of the territory is the event Al Meni, which takes place in a scenographic circus tent in Piazzale Fellini, next to the Grand Hotel.
Not only food. In Marina Centro every year, during Easter weekend, there is the Paganello, now historical international tournament of Frisbee that gathers sportsmen from every corner of the globe, between live music and beach parties. Another event, dedicated to flowers and plants, is Giardini d'Autore, a scenographic market exhibition staged in the area of the Fellini Park in Spring and Autumn. A romantic and sustainable way to celebrate the beginning and the end of the summer season in Rimini.