Among the attractions of Cervia we find the beautiful House of Butterflies, a magnificent greenhouse where you will find the climate and the vegetation of the rainforests, with temperature ranging from 28 to 30 degrees and the rate of humidity around 65/70%. Inside the greenhouse you can admire hundreds of beautiful butterflies and you will be immersed in a wonderful natural scenario, which includes tropical plants as ficus trees and banana trees, shrubs and various other exotic plants, embellished with flowers with bright colours. Among the vegetation there are also carnivorous plants that eat insects and contribute to maintain the equilibrium of the eco-system inside the greenhouse.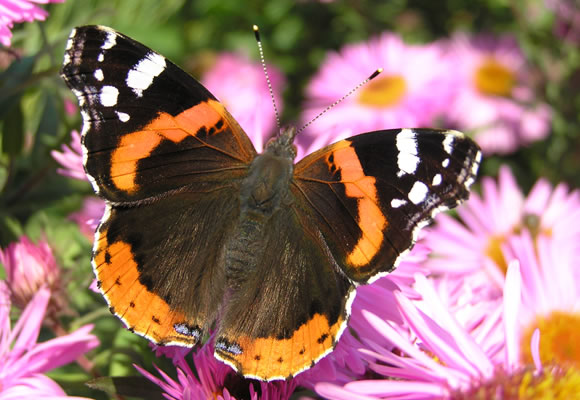 To complete the offer of the Park, in 2006 was inaugurated a further pavilion dedicated to insects, where you can get closer to the life of locusts, beetles and mantis, killer insects and other odd invertebrates and species from all over the world. In the centre of the garden since 2013 there is also "The Caterpillar", a greenhouse which houses several species of Italian butterflies: Vanessa Io, Cabbage White, etc... for everyone's relaxation there is a beautiful garden with lovely gazebos, where you can spend pleasant breaks and buy typical souvenirs from the well-equipped themed shop.
The Educational Park House of Butterflies & Co. of Cervia - Milano Marittima is managed by the Cooperative Atlantide that dedicates its activity to the study of the environment and to the services ensuring the protection of the environment and of the eco-system. It will be instructive and interesting for all visitors to follow the botanic and naturalistic path inside the greenhouse, especially organized to illustrate the aspects and the importance of the flora and the fauna recreated within, as well as the outdoor botanical path, to deepen many subjects related to the plants of the area.
Days and Opening Hours
The House of Butterflies of Cervia is open to the public from the 12th of March until the 1st of November 2016.
During the closing period, the secretarial service will be operative from Monday to Friday, from 9.00 to 13.00 and from 14.30 to 18.00
The opening hours of the park, vary in accordance with the seasons in order to adapt to the needs of the butterflies, which are more active during the brighter and hottest hours of the day.
Opening Days and Hours
The House of Butterflies of Cervia is open to the public from 18 March until 1 November 2017.
Opening times:
March, October and November: from Tuesday to Friday 9:30-12:30 and 14:30-17:00; Saturday, Sunday and holidays from 9:30 to 17:00 no stop
April, May and from 16 to 30 September: from Tuesday to Friday 9:30-12:30 and 14:30-18:00; Saturday, Sunday and holidays from 9:30 to 18:00 no stop
June, July and August and until 15 September: every day 9:30-19:00 no stop
Prices
Full fare: 11€
Reduced fare: 9.5€ (Children from 1 meter height up to 12 years, over 65, holders of reduction Circuit Amaparco, holders of membership card)
Family ticket € 35 (minimum 2 adults + 2 paying children)
Free for children of a height of less than 1 meter

Address and Contacts
Viale Jelenia Gora 6/d - Milano Marittima
Tel. +39 0544 995671 - 965806 (Cooperativa Atlantide) - Fax +39 0544 998308

casadellefarfalle@atlantide.net
www.atlantide.net/casadellefarfalle
FACEBOOK: http://www.facebook.com/casa.farfalle