Since there is the Ferris Wheel the waterfront of Rimini Riviera has gained more charm.
It is located on the Piazzale Boscovich on the Molo Levante of the Canal Harbour of Rimini and offers a new and exciting perspective from which you can admire the Riviera from Gabicce to Cesenatico and up to the hills of the hinterland. It is constituted of 28 semi-open cabins with a maximum height of 55 meters and hosts up 168 people. Usually it is removed at the end of September and comes back in place in spring.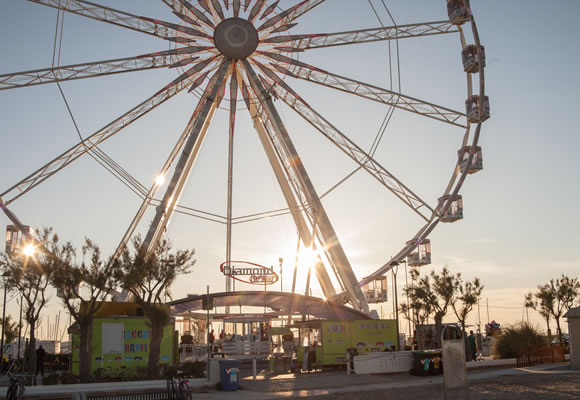 The access is free for the disabled and there are special promotions for families. The ride on the wheel with souvenir photos has become a must for those who spend a holiday in Rimini.
From the top you can enjoy a breath-taking panorama and it is worth living this experience at any hour of the day. During the day the sun illuminates the panorama offering incredible colours as the blue of the sea, the gold of the sand and the lush green of the hinterland. Sunset is a magical time and with its plays of light winds everything in a dream-like atmosphere, at night then the Riviera lights up and you can feel all the energy that it releases.
Eye Love Rimini that's how is called the big Ferris Wheel from which you can admire and fall in love with the Riviera Romagnola, sincere and genuine land that offers itself with all its beauty to be discovered under every prospect.
Opening times:
The Ferris Wheel will reopen in spring, every day from 10.00 to 24.00 (opening times are subject to change in case of bad weather)
Discounted € 6,00 children up to 10 years of age

RATES:
Full price € 9,00
Special families:
€ 22,00 (2 adults + 1 child up to 10 years)
€ 26,00 (2 adults + 2 children up to 10 years)
Disabled FREE

The Canal Harbour of Rimini, Molo Levante
info@lagranderuotapanoramica.it