Rivergreen Golf, the first eco-minigolf in Italy, is located on the Tintori seaside promenade, in the heart of Marina Centro and Rimini night entertainment, close to the port. Surrounded by greenery, the Rivergreen Golf covers 6,000 square meters of courses, in a completely natural environment, full of marvelous typical Mediterranean plants: palms, brooms, cork-trees, Spanish and age-old olive trees, and a majestic holm-oak: 2,000 essences in 1,000 square meters of rocks and 1,000 square meters of water, with lakes and waterfalls, where to play with friends and enjoy fantastic moments of relaxation, sport, joy and nature!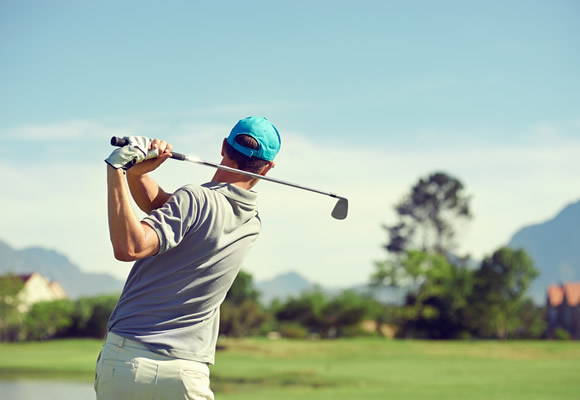 The Park provides for two courses, each with 18 holes: the Percorso del Leccio Mediterraneo (Mediterranean Holm-Oak) and the Percorso della Palma Gigante (Giant Palm). The facility is open from April to September, morning and afternoon, and late night in the summer period starting from June.
Whether you love golf or are just curious to spend a few hours in an alternative way, the Rivergreen Golf is what you need: a curious and unusual experience, perfect for families with children as well as groups of friends on holiday in Rimini and its surroundings.
Rivergreen Golf Opening Hours 2019:
The Rivergreen Golf Rimini opens in April and May from 10:30 a.m. to 12:30 p.m. and then from 4:00 p.m. on, while from June to September from 10:30 a.m. to 12:30 p.m. and then from 5:00 p.m. until late at night.
For more information:
0541/53899 or 333/7776193
www.rivergreengolf.it.