The Oltremare Park, which opened in 2004, has quickly become one of the main attractions of the Riviera of fun. Dedicated to the discovery of the marine world and terrestrial ecosystems, it offers lots of educational and interactive trails inspired by the 4 elements: air, water, earth and fire.
The main attraction of the park is without a doubt the beautiful Laguna dei Delfini (Dolphin Lagoon), among the largest in Europe, with experts helping visitors to become familiar with and admire these amazing mammals in the key moments of their life and day. Interaction is also possible in the area dedicated to the Volo dei rapaci (Flying birds of prey), where visitors can admire amazing hunting simulations and the acrobatic glides of these amazing birds.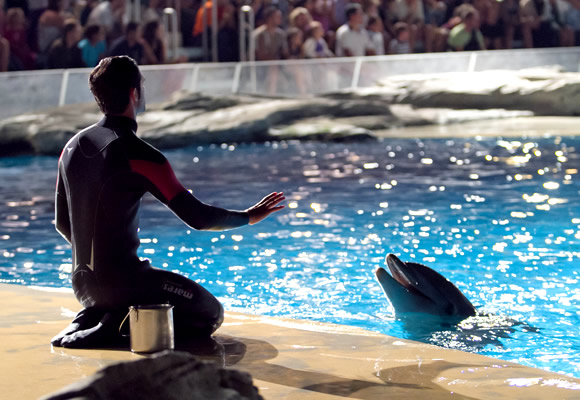 In the educational sections dedicated to the 4 elements visitors will discover the fascinating history of the evolution of the earth and the ecosystem of the Parco del Delta del Po. The adrenalinic ones should not miss Adventure Island, an area of over 4,000 square meters where to have fun through water cannons, hanging bridges and boat trips along the river.
Among the latest attractions, especially for the little ones, is the option to sleep with dolphins, meet parrots in the educational farm, ride through lianas and hanging bridges to discover the Parco del Delta del Po, an amusing game that transforms everyone into gold nugget seekers through streams and falls, the possibility to baptize the saddle on sweet ponies and the Tana dei conigli (Rabbit Burrow), lots of amusing tunnels where to slip to discover the life of these cute little pets up close.
Endless emotions are guaranteed by the Emotions show, an award-winning musical where skilled dancers turn into wonderful creatures simulating the movement of plants, flowers and animals.
In this park, open most of the year, you can enjoy pleasant days discovering new worlds, acting as a trainer of dolphins and birds of prey, the young Indiana Jones or a simple curious spectator in search of unforgettable emotions.


2019 Season:
The park stays open from 6th April to 15th September between 10 am and 6 pm
On the 21st, 22nd, 28 th, 29th September, every Sundays during October and from 31st October to 3rd November, the park stays open between 10 am and 6 pm
On the 8th December and from 26th December to 6th January the park stays open between 10 am and 5 pm

2019 Prices:
Adults: €27
Children (above 1m in height to 11 years old): €21
Children (up to 1m in height): free
Over 65 – Disabled – Military: €21
Non self-sufficient disabled person: free
Person accompanying non self-sufficient disabled person: €21


Info and bookings:
Tel 0541 4271- Fax 0541 427101
Parco Oltremare - Via Ascoli Piceno, 6 - 47838 Riccione (A14 Riccione exit)
info@oltremare.org