Mirabilandia is the largest amusement park in Italy, now famous around the world for its amazing attractions and all the shows that daily cheer children and adults in a crescendo of adrenaline and big emotions. Situated in the immediate hinterland of Ravenna, in the small town of Lido di Savio, is a must-see place for anyone who is on holiday on the Riviera, as it is an excellent alternative to the beach for families with children, groups of friends and anyone who wishes to live an alternative day enjoying merry-go-rounds, roller coasters and acrobatic activities.
Many are the attractions that have made the park famous all over the world, from the most extreme and daring ones, like Katun and Ispeed, to the easiest ones, suitable for children of all ages.
Here are some.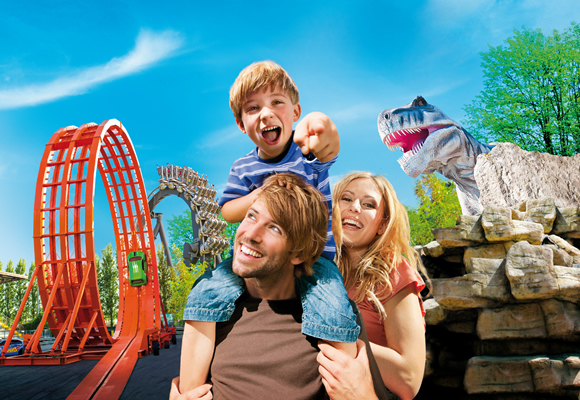 Among the extreme attractions, pride of place goes to the Katun, the no. 1 inverted coaster in Europe, which reaches a speed of 110 km per hour, has 360 degree loop and stands 50 meters tall. No less so is Ispeed, which offers the thrill of racing at the speed of a Formula 1 car with acceleration from 0 to 100 km/h in 2.2 seconds and facing breathtaking bends at 120 km/h. Among the more moderate attractions, one cannot fail to mention Divertical, the tallest water coaster in the world, Reset, a thrilling dark ride through the underground ruins of a post-apocalyptic New York, and Rio Bravo, for breathtaking rafting through rushing rapids, rocky walls and wild canyons. Finally, among children's attractions, the gold medal goes to Geronimo, the year's new amusement with its two 9-meter-tall interactive towers, although no less so are other "great classics", such as the timeless Ferris wheel Eurowheel and the amusing waterway on the Mini Rapids.
Mirabilandia is not only attractions. Lots of shows enliven each area of the park from morning to evening [the unmissable ones include Grosso Guaio a Stunt City (Big Trouble in Stunt City), the no. 1 stunt show in Europe, and the brand new comic dive show Fuga dall'Isola di Tortuga (Flight from The Island of Tortuga)] and unmissable themed events are organized on occasion of the most popular celebrations, such as Halloween.
And then bars, restaurants, ice-cream shops and kiosks of any kind for regenerating breaks in the fresh air, theme shops, souvenir shops and a host of other services (from baggage storage to the printing of funny pictures to immortalize the best moments) will allow you to spend carefree days full of fun and joy.


Mirabilandia Season 2019
Opening April 6, 2019 - Closing November 3, 2019
Mirabilandia opens on the weekends of 6/7 and 13/14 April. From April 18th it opens every day until September 15th. After this date it will open on the weekends of 21/22, 28/29 September and the weekends of October until 4 November.
Prices 2019
Full price: € 37.90 at the cash desk, € 26.90 online
Reduced price (people under 1.40 meters in height): € 29.90 at the cash desk, € 24.90 online
Families (2 adults + 2 children): € 135.60 at the cash desk, € 99.90 online
Reduced over 60 (at the cash desk only): € 29.90
Children (under 1.00 meters in height up to 3 years old): free
Disabled people: free
Companions for disabled people: € 28.90 (at the cash desk only)


Info Line & Bookings:
Mirabilandia Booking Office: Tel. 0544 561156 - Fax 0544 560195
Mirabilandia Park - SS 16 Adriatic State Road - Mirabilandia 48015 Ravenna - Tel. 0544 561111